What do you do?
Omega Asbestos Consulting are your trusted asbestos experts and advisors. We put our clients under our protection and help them saves lives and protect their reputation.
We are a UKAS Accredited Asbestos Inspection and Testing organisation.
We provide surveys, sampling, testing, training and oversee removals.
We are here for free advice and guidance too.
We serve our clients extremely well.
Which services do you provide?
All types of asbestos survey (Management, Reinspection, Refurbishment, Demolition).
Material sampling and analysis.
4-stage clearances / Certificate of Re-occupation [after asbestos removal].
Project Management of Asbestos Removal works including specification, tendering and awarding works.
Air sampling / fibre counting – all types of air test – background, leak, personal, clearance, reassurance.
Witnessing of Smoke Tests and issue of permit to work [for removal work].
Asbestos Training.
Management Policies.
Exposure Incident resolution.
Expert Witness.
Compliance Reviews, GAP Analysis and Asbestos MOT.
Advice & Guidance.
Do you do commercial or domestic work?
Both – Domestic & Commercial.
And also Industrial.
Which regions do you cover?
We routinely work all over the UK and ROI.
We have even worked in Gibraltar.
Asbestos is a global issue and therefore we will seek opportunities anywhere.
Our Head office is in Durham however we have satellite locations in Northallerton, Sheffield, Scotland and London.
What are your credentials/qualifications/associated professional bodies?
Omega are a UKAS Accredited Asbestos Inspection Body and Testing Laboratory. Our accreditations cover our Durham head office and our Dunfermline office.  
We also are registered members of:
CHAS
Constructionline
NORAC – The National Organisation of Asbestos Consultants
British Safety Council
Registered waste carrier with the Environment Agency.
Our team members are personally qualified in all their respective disciplines of surveying and testing work; these are through BOHS P401 to P405 or RSPH Surveying and Analysts work.
Our Directors / Management Team are certified competent in Asbestos (CCP / CoCA).
Do you offer a free quotation service?
Yes 
Some simple jobs can be priced with enough information provided upfront however we will need to visit a building for the larger or more complex jobs.
If you would like to arrange a quotation, please get in touch, the admin team will gather basic information firstly then a Project Manager shall discuss the full technical requirements.
You can email your quote request with any plans and/or photographs to info@omega-asbestos.co.uk
Is your work covered by a warranty?
No, no company in our service sector will provide a warranty.
Our work is carried out by trained, qualified, audited and competent surveyors/analysts and consultants. We operate in compliance with our UKAS Accreditations.  We also hold professional indemnity insurance (£1m) and employers and public liability insurance (both £10m). All works are carried out using reasonable skill and care to an agreed scope of works.
Do you have a call-out charge?
No. 
We price our work based on a time charged basis; this tends to be a fixed price or may be a dayrate for the larger projects.
We will consider the travel time, site time required, number of samples to be taken and the reporting time when we submit our prices.
A local call out to take one sample may cost £50 (ex VAT) whereas a large complex survey carried out over a number of days will cost substantially more.  Please get in touch to discuss your requirements.
Contact info, address, emergency & out of hours
Wellsprings Business Centre
First Floor
Durham Rd West
Bowburn, Durham DH6 5AU
0191 377 0900
info@omega-asbestos.co.uk
Office hours are:
Monday to Thursday 8am to 4.30pm
Friday 8am to 3.30pm
However the nature of the industry is that the site based staff work any time, any place anywhere.
Out of hours working is routine.
We can also react to emergencies and provide a safe solution.
For an emergency please call the office during normal hours OR
Gary McKendrick, MD on 07889 169085
Steve Hubery, Commercial Director on 07894 414755
Craig Johnston, Operations Manager on 07715 651763
What is asbestos?
Asbestos is a naturally occurring silicate mineral fibre which forms as fibrous bundles in rocks.
Asbestos is a natural phenomenon which somewhat baffles geologists (or simply bores or scares them!).  It originates as crystals from lava, which under extreme heat, pressure and time, forms into long-chain silicate fibrous bundles within rocks.
In contrast, 'Fibreglass',  is a man-made silicate mineral fibre.
Asbestos is mined and used to make various building products and insulation materials.
Asbestos is resistant to heat and chemicals; it is also a good electrical insulator, sound absorber; has high tensile strength and strong reinforcing qualities.
It was hailed the 'magic mineral' and commercially exploited at the continued expense of human lives.
Are there different types of asbestos?
Yes, there are 6 regulated types of asbestos fibre.
The 3 most common are:
Chrysotile [White]
Amosite [Brown]
Crocidolite [Blue]
The other less common 3 are:
Tremolite; Actinolite; Anthophyllite
But there are actually hundreds of non-regulated asbesti-form fibres out there.
Interestingly, Amosite is an acronym derived from 'Asbestos Mines of South Africa' where it was mined, its real name is Grunerite.
A brief history of asbestos
Asbestos has been around for a very very long time, especially white.
There is evidence of white asbestos being used some 4000 – 6000 years ago. Whilst blue and brown asbestos has been around for 100-200 years. Blue was discovered in the early 1800's and brown in the early 1900's.
White asbestos makes up for at least 90-95% of the global use.
Commercial asbestos use dates back to the late 1800's/early 1900's however it was heavily commercialised in the UK from the 1940's to 1980's. And still used up to 1999.
In general terms, in the UK, the high-risk materials were banned by 1975; high-medium risk by 1985; medium to low risk by 1999.
Some countries still use asbestos today.
Only 63 countries out of a global 195 have fully banned asbestos use.  More countries continue to get their act together; the countries who have joined the ban recently are New Zealand on 1st October 2016 and Canada on 30th December 2018.  But 63 is still shockingly low.
Approx 2million tonnes per year are still used mostly by China, Russia, India, Brazil, Kazakhstan & Indonesia and also Sri Lanka, Thailand, Ukraine and Mexico.
The main countries still mining asbestos are Russia, China, Brazil, Kazakhstan and India.
Donald is a fan of white asbestos so Russia now produces a 'Trump Approved' asbestos!! Madness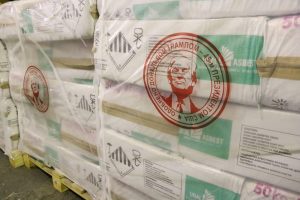 What are the health effects of asbestos?
The three main diseases are:
Asbestosis – a scarring or fibrosis of the lungs
Lung Cancer – tumour of the lungs
Mesothelioma – a tumour of the lining of the lungs, abdomen or heart.
Other effects which are not life threatening:
Pleural plaques & pleural thickening – signs of exposure and scarring of the lungs [note continued exposure may lead to further risk of disease]Asbestos warts/corns – through fibres embedded in the skin
Can one asbestos fibre kill?
NO. This is like saying if you smoke one cigarette, you'll get lung cancer. Not true.
Of course, us humans are all unique and have different tolerances to life (or death). Take two people of the same age and relative fitness being exposed to exactly the same amount of asbestos over exactly same time period – they may both die; or only 1 may die from asbestos. Or both may be okay and die from natural causes. One might get hit by a bus! The point being, if 1 fibre could kill, then the current UK death rate of approx 5500 per year, would be substantially higher.
Fact: the more times you're exposed, the higher the level you're exposed to, the greater your chance of illness. Repeated exposure over a number of years is the greatest risk.
And here's the asbestos bit that no-one talks about or advertises:
Remember even when asbestos is removed and the area is deemed 'clear' and 'fit for re-occupation', there could still be some asbestos fibres remaining. The clearance level of less than 0.01 fibres per millilitre of air does not mean zero fibres are left.
Think about this: there are 1000 millilitres in 1 litre. So in 1m3 there is 1,000,000 ml.
If we take a fibre concentration of 0.005 f/ml of air this is deemed to be a clearance 'pass' as it is less than 0.010. So if we multiply this by 1,000,000 this gives us 5000 fibres in 1m3 – and this is acceptable! And if the room is say 50m3 then there's potentially up to 250,000 fibres remaining. So if 1 fibre could kill, we would all be walking into a certain deathtrap after every satisfactory and cleared asbestos removal job. #controversy
Do I need to label asbestos?
No, there is no legal duty to label asbestos – the legal duty to mark its presence in a register which should also comprise marked up building plans to show location and extent of asbestos.
Labelling is optional – some clients prefer to but there are pros & cons.  Labels must be checked routinely as they can come off, be removed or painted over.
Do I need a survey?
Yes, if your (non-domestic) building was constructed before the year 2000 then you have a duty under Regulation 4 of the Control of Asbestos Regulations 2012.
Reg4 became law on 21st May 2004, meaning 15 years ago you had to have a register in place.
This duty is to assess your premises for asbestos materials and put a register together; you must also formulate a Plan on how you will manage your asbestos (an Asbestos Management Plan).
So where to start, well you need a competent person to assess your premises which in simple terms means a trained, experienced, and qualified asbestos surveyor conducting a survey, a Management Survey, which is your first level, standard survey.
There are other types of survey:
Refurbishment Survey
Demolition Survey
Re-inspection Survey
One survey does not constitute compliance. And one building will have a series of surveys over its lifespan.
Even where a Management Survey does not find any asbestos, you will still need to carry out other types of survey in the future such as Refurb or Demo surveys because asbestos can be concealed within the fabric of a building, only uncovered during planned building/refurb works.
An important note – though the Reg's specifically state 'duty to manage asbestos in non-domestic premises'; this is somewhat misleading as the domestic sector IS NOT fully excluded. Asbestos was very much used in housing up until 1999 too.
Contact us to discuss your requirements.
How often do I need a survey?
A Management Survey – the standard survey usually including samples of any suspect materials; does not damage the building; the 1st step in the duty to manage. A one-off survey. New Management Surveys are generally only commissioned where you have reason to doubt the accuracy of your existing survey.  There is no law that requires them to be re-surveyed every 5 or 10yrs.
A Reinspection Survey – usually carried out annually; this survey checks the condition of all known asbestos. Remember the duty is to manage so you must ensure no asbestos gets damaged or deteriorates. You could have higher risk ACMs which require checking every 6 months for example.
You must also consider Refurb & Demo surveys during the life of your building.
A Demolition Survey is a one-off survey prior to demolition when the building (or parts) is empty and at the end of its life.
A Refurbishment Survey: these will be numerous, for anything from small scale building works, repairs, maintenance or installations to large scale projects. These will be done as many times as is required.
What is an Asbestos Management Plan?
This will ensure full compliance with Regulation 4 of the Control of Asbestos Regulations 2012.
This is a policy and procedures document which details how exactly the client will comply with the law and whom will take the responsibility. Covers the surveying strategy, training requirements, controlling building works and dealing with emergencies.
I am buying/selling a house; do I need an asbestos survey?
There is no law which specifically states you must however asbestos was very widely used in homes up to 1999 so we strongly recommend a survey.
A standard homebuyers report or a structural survey report IS NOT an asbestos survey; they may mention some suspect asbestos materials but they will also recommend an asbestos survey is done.
Knowing if there's asbestos in the house can make or break a purchase.
I am planning on home renovations; do I need a survey?
Yes. Asbestos was widely used in homes up to 1999 so you simply must know if there is asbestos present or not. Asbestos can also be concealed which only renovation works will uncover.
So all DIY-er's and Tradesmen need to know they are safe. Tradesmen have a legal duty to work safely.  Homeowners must also protect themselves and comply with law.
All too often we are called out to investigate a suspect material during home DIY or building works. At this point the work has stopped, an exposure issue may have happened, progress isn't being made which costs money and create concerns & frustrations.  A survey before works started could have prevented all of this.  Be pro-activenot reactive.
What is a Refurbishment Survey?
A Refurbishment Survey – an intrusive survey tailored to suit your specific works. This survey goes beyond the visible surfaces of the rooms and requires very careful planning especially if carried out in an occupied building. A pre-start meeting is critical.
One building will have numerous refurb surveys over its lifespan covering anything from small scale repairs, maintenance and installation work to large scale refurb/renovations.
What is a Demolition Survey?
A Demolition Survey – the building is at the end of its life; a fully intrusive and damage heavy survey.  The building must be empty and services isolated for a full demo survey.  This survey is carried out prior to planned demolition so that all asbestos can be removed.
A full demo survey cannot be carried out in an occupied building. Anyone who provides this will have to do so with a strongly worded caveat in the report.  This can be done if all parties understand and agree upfront.  For example, a two phased approach is sometimes taken – phase 1 conducts the survey as intrusively as possible whilst the building is still occupied (ie during a nightshift or weekend when no persons are present). The survey report is then submitted with agreed restrictions to the survey and documented that a return visit is a must.  Commonly needed for tendering planned building works.
Phase 2 is carried out when the buiding is unoccupied and there are no restrictions in place; therefore the demo survey can be fully completed. A more expensive approach but sometimes needed.
Do I need to do a Refurb/Demo survey for all works?
Not necessarily.  The law requires a risk assessment for asbestos for ALL works so this can be based on known asbestos information (ie a management survey) for starters then a decision is taken to determine if more intrusive survey work is required.  It depends if the planned work is intrusive or more cosmetic in its nature.
A Demolition Survey in its true sense is a MUST.  Meaning, a building is at the end of its life, its empty and services are isolated and its due to be demolished – it must have a demo survey.  Thats the law.
A Refurb survey is carried out for anything other than Demo work.
A number of similar / repetitive tasks may be surveyed on a representative % basis.  For example, window installations over numerous houses of a similar age/construction may not necessarily need a refurb survey for every house and every window.
Some clients simply adopt a process of Refurbishment Surveys for everything to be on the safe side, however we will always advise if we believe otherwise.
Remember, the person conducting the risk assessment must be competent in the decision making process. Call us for any free advice.
How many types of survey are there?
There are FIVE types of survey so you must know what you need. Or consult with an expert to guide you accordingly.
Now, according to the HSE's guidance HSG264 Asbestos: The Survey Guide, there are only TWO types of survey – a Management Survey or a Refurbishment & Demolition Survey.
Well, I'm here to say, that is incorrect.  In the real world, there are five types which are:
Management Survey
Refurbishment Survey 
Demolition Survey 
Reinspection Survey 
Combination (or Mixed) Survey 
A Management Survey is the first step in the Duty to Manage your asbestos. See this as the 'standard' survey carried out in operational buildings. In simple terms, all rooms and areas should be accessed as far as safely possible and without causing any damage to the building.  And samples are normally taken of suspect materials.
A Refurbishment Survey is a more intrusive level of survey which opens up those areas which are otherwise inaccessible. This means that some degree of damage will occur so making good may be needed. This survey type is for anything from small-scale repairs, installs, refits to large & complex renovations; an inspection must be carried out in all areas affected by the planned works.
A Demolition Survey is (unsurprisingly) a survey carried out before demolition of a building. The building must be vacated and services isolated to allow for a fully intrusive (ie causes major damage) survey to be conducted. The objective is to open up the fabric of the building to ensure any hidden asbestos is found.
A Reinspection Survey is a condition check survey; normally carried out annually.  Meaning you have had a Management Survey and have your asbestos register, then a Reinspection Survey would be carried out 12months later to check the condition of all known asbestos materials in the building.
A Combo or Mixed Survey could be a combination of the four types above. For example:
Reinspection Surveys often include areas which the original management survey recorded as 'No Access' or 'Limited Access' – these could be whole rooms or parts of rooms (ie ceiling voids). If these areas were included then they would be subject to Management Survey work.
A Management Survey could be combined with partial Refurbishment or Demolition Survey work if parts of the building were due for such works.
A Refurbishment Survey could also be done in conjunction with some Demolition Survey work if part of the building was to be renovated and another part fully demolished.
You could also carry out a survey in a two-phased approach (is this a 6th survey type?!!) such as:
A Management Survey which has to defer the need for sampling to a later date.
A Refurbishment Survey where the rooms were still in use at the time of the survey; this would restrict access so a return visit would be needed to complete inspections once the rooms were fully vacated.
Similarly, a Demolition Survey may also need to be carried out in two phases; often is the case that asbestos information is needed in good time upfront for tendering reasons and CDM Regs.  Therefore a return visit is needed when the areas are empty.
So as you can see, the client must be guided by an expert and fully understand what type of survey is required and when.
Please get in touch if you need any help.
Gary, MD – Omega Asbestos
07889 169085 or gary@omega-asbestos.co.uk
Tell me what I need to do
Do I need to remove asbestos?
No, there is no legal duty to remove asbestos – the legal duty is to identify its presence (ie. a survey and a register) then keep it in good condition and prevent uncontrolled disturbance.
So if it is beyond repair then yes, remove it.
If it is routinely disturbed then yes, remove it or seal it or protect it.
If its in your way for any planned works, then yes, remove it.
Remember, all asbestos must be removed by trained and competent persons.  There are three categories of work –
Licensed work
Non-licensed work
Notifiable non-licensed work
Non-licensed work still needs competent people, correct methods and control measures and waste disposal.
Asbestos awareness training does not make you qualified or competent for any removal work.
Do you do asbestos training?
Yes we do Category A training: Asbestos Awareness. This is a 2.5hr course for those who have never had any training before or it has been a number of years since their first training.  We also offer Refresher training sessions (usually done annually) which last 1 – 1.5hrs.
We can also offer on-line training for those who prefer or struggle with the logistics of getting all their guys in one room for face-to-face training.  Though on-line training will never be as strong and as valuable as face-to-face.
We can also supply Category B Non-licensed and Category C Licensed training via our partnered suppliers.
Wellsprings Business Centre, Durham Road West,
Bowburn, Durham DH6 5AU
TEL: 0191 377 0900    EMAIL: info@omega-asbestos.co.uk
AYE House
Admiralty Park
Dunfermline
Fife  KY11 2YW
Office 7
35-37 Ludgate Hill
London  EC4M 7JN